Global Variables window - work with global variables of the terminal
The window Global Variables is intended for the management of global variables of the trading terminal.
This window allows doing the following operations:
look through the names, values and times of the creation or change of global variables
change values of global variables
delete specified variables
delete all global variables
To open the Global variables window, click on the main menu View - Global Variables.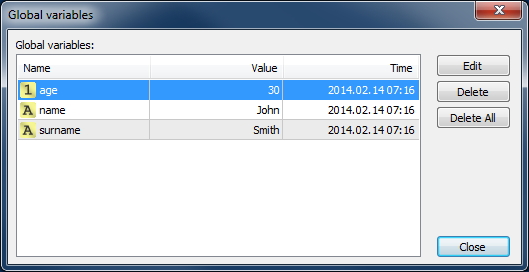 There is a table in the central part of the window with the alphabetical list of all saved global variables, their values and dates of creation. The right-hand part of the window contains the following buttons:
Edit - Editing the value of a selected variable
Delete - Deleting a selected variable
Delete All - Deleting all global variables
Close - Closing the window Global Variables
The time of existence of global variables is limited. If a variable was created or changed more than 90 days ago, it is deleted by the terminal automatically.
You can learn more about global variables of the trade terminal and the work with them via the NTL+ language in the Object Globals - operating global variables of the client terminal section.